Bli med på 2-dager workshop i mosaikk på årets Nuart festival i Stavanger og lag et utendørs veggmaleri under ledelse av kunstner Carrie Reichardt!
Self-titled 'craftivist' Carrie Reichardt hosts a two-day workshop for youths aged 16-22 years old at this year's Nuart Festival in Stavanger, in cooperation with Trafo.no.
Participants will receive a personal introduction to Reichardt's unique mosaic-making technique before designing, assembling and installing a public mural with the artist in Stavanger city centre.
The theme of the workshop is 'Pride' – both to coincide with Stavanger Gay Pride week and underpinning the goal of Nuart's education program, which is to encourage civic engagement through street art.
Participation is free but places are limited to 20 and assigned on a first come, first served basis. Sign up for this unique opportunity by sending an email to priscila@nuartfestival.no
Location: Metropolis, Nytorget 1, Stavanger
Date: Sat 2 Sep (1200-1700) & Sun 3 Sep (1100-1300)
Age: 16-22 (20 places available on a first come, first served basis)
Price: Free* (Nuart supplies all materials)
NB: Participants can apply for a travel grant from www.trafo.no ​​for up to NOK 1.000:
Reisestipend: Tilreisende fra andre deler av Norge enn Stavanger kan søke om reisestipend:
- Har du utgifter på mer enn 1.000,- kan du få du et reisestipend på 500,-
- Har du utgifter på mer enn 2.000,- kan du få du et reisestipend på 1.000,-
Send e-post for mer informasjon til info@trafo.no
---
This workshop also includes entry to the grand opening of the Nuart Festival exhibition (entitled 'Rise Up!') at Tou Scene Centre for Contemporary Arts on Saturday 2 September, kl1900, and places on the festival's first guided street art tour on Sunday 3 September, kl1400.
For more information on the festival and its program of artist talks, presentations, workshops, film screenings, exhibition openings and more, visit www.nuartfestival.no
---
About the artist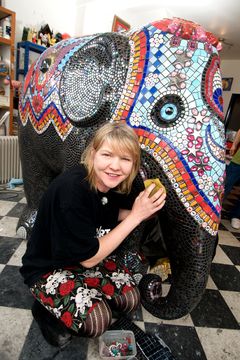 Carrie Reichardt's work blurs the boundaries between craft and activism, using the techniques of muralism, mosaic and screen-printing to create intricate, highly-politicised works of art. 
Reichardt trained at Kingston University and achieved a First Class degree in Fine Art from Leeds Metropolitan. She was Artist in Residence at Camberwell Art College in 2009, following this with a period as Artist in Residence at The Single Homeless Project. She remains a proactive supporter. 
Reichardt has been involved in community and public art projects for over 15 years, designing and consulting on large-scale mosaic murals in various local communities. She has produced a community mosaic in Miravalle, one of the most deprived districts on the fringes of Mexico City as well as designed and installed 'The Art of Recycling' at Harold Hill Library, Essex, and 'The Revolution will be Ceramicsed' in London Portobello. 
She is frequently called to speak on the use of craft and art as protest and has presented at National Museums Liverpool's International Women's Day lectures and the British Association of Modern Mosaic forum at the V&A, London.
Her work has been featured in The Observer, The Guardian, The Evening Standard, Tile and Stone and in several books including:1000 Ideas for Creative Reuse, Garth Johnson; Mural Art No. 2, Kirikos Iosifidis, and The Idler 42 – Smash the System, Tom Hodgkinson. 
Reichardt joins a long list of international artists who have participated in Nuart's educational programs and workshops including Swoon, Chris Stain, Dan Witz, Logan Hicks, Brad Downey, Icy & Sot, Nafir, Nipper and more.